Above: "How many cameras does it take to capture NFT art in Unreal Engine?"
I'm HaZ Dulull, the co-founder of HaZimation. We have partnered with Jumpcut to drive the creative side of Uppercut's Web3 content. As a studio, we produce our own IP for feature films, series, video games and content for the Metaverse. We're currently in post-production on our animated CG feature film RIFT, and we're developing a video game spin-off simultaneously.
When Jumpcut approached us to collaborate on a NFT project, we were in as soon as we saw the vision and roadmap. The key factor for us is how we could contribute to a world where the NFTs will empower a community of fans to drive the narrative universe forward. It's essential to give the savvy audiences of today the ability to drive storytelling through utility-driven NFTs. As the Creative Director of the project, I'm excited to share a sneak peek behind the scenes.
These NFTs are not just glorified collectables, but 100% utility-driven. We decided to take a 3D/CG approach rather than 2D images and spent our first month on R&D. Andrea Tedeschi, our head of CG, adapted our in-house proprietary tools to generate the exports. We originally developed the tool in our Unreal Engine pipeline, similarly to our animated feature film and video game. This tool will feed further into the Uppercut animated series (and potential beat-em-up video game too) and manage the other utility-based outcomes of the project. By the end, we had a slick process where we could generate traits from importing a JSON file that would drive our modular created fighters, and then export out a PNG.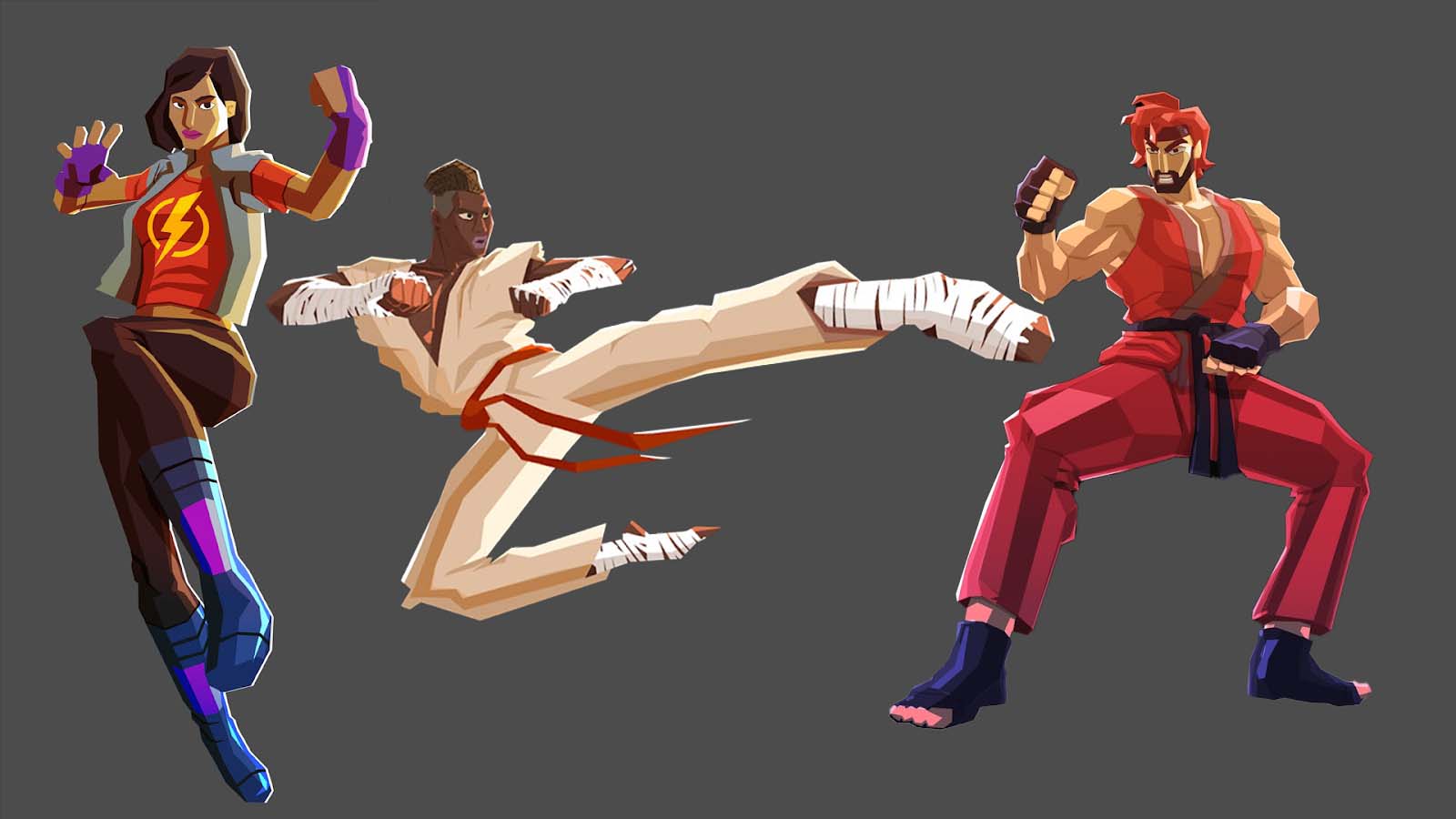 Above: In-progress concept art. We began sketching in 2D before moving into Unreal Engine.
Then we moved to actual production, where concept artist Ahmed Omar was fundamental. We went with a stylised polygonal character approach, a throwback to the first 3D beat-em-up games of the late '90s- Tekken and Virtua Fighter. In the Metaverse, we have to create avatars with high latency due to current bandwidth, but with Unreal Engine we can still make them look high-end with lighting and high-quality shaders. It made me nostalgic for when I started out in the games industry as an artist on consoles like PS1 and Dreamcast. Back then, we lacked the graphical power of today but still made our characters look cool.
Our production approach enabled us to do almost everything in real-time inside of Unreal Engine. The only parts that were done in other programs were the 3D character builds and props which were created in Blender, Maya and Substance Painter. Every Uppercut NFT holder will get a 3D PFP and 3D render of full-body in action.
I can't wait for you to get your hands on the characters. I'm proud of the way we've built them to be fun yet truly reflect the world we live in today, without falling into the trap of creating diverse characters to tick a box. It's about much more than simply adjusting skin tone hues. We designed each character from the ground up to authentically represent the features that make up different ethnicities without relying on stereotypes. There's total buy-in from everyone at Jumpcut and HaZimation, and you'll see the thought and care we put into every detail. We want everyone to feel welcome and be part of this journey in building Uppercut.
HaZ Dulull (@HaZ_Dulull)
Co-founder, HaZimation